Features: Lovely hardwood trim, hinged old fashioned oversized wood windows, view of Mt. Shasta, & clever black & white theme in kitchen & bathroom. You can even watch the football games from your front yard.
Call 883-3421, ext. # for more information

Control this home via in wall keypads & pico remote controls. Also includes Car safe entry system. Go here to learn more abou this Smart Townhouse features: www.connected-smarthomes.com
-
This Lovely Three Level Two bedroom colonial Super Smart townhouse is available to move into now and is over 1550 sq ft and has two efireplaces - one in the living room and the other in the master bedroom.

This townhome is located in the Pacific Terrace/Roosevelt area. It sits on a corner lot and has refinished oak hardwood floors, large view windows that let in lots of light, lovely dining room with built in corner china hutch and very large living room with a ton of windows & sunlight.

Built in the grand old style - closet lights turn on when you open the doors, picture molding throughout. Interior space is approximately 1550 sq. ft

Fabulous Kitchen remodel recently completed includes new black and white checker board flooring in the kitchen & new cabinets for the range & refrigerator area. Plus a $1100 Kraus Designer stainless steel farmsink with High End Danze faucet complete with High End Honed granite top.

Plus more self-closing drawers with Blumotion, open area under the kitchen sink designed for pet feeding station and huge Pantry unit.

Plus A gorgeous side by side refrigerator with water and ice in the door + a self-cleaning range with a microhood above & a dishwasher.

Fenced yard is great for pets & shaded patio with paver stones right off of kitchen. Surrounded by several lilac trees.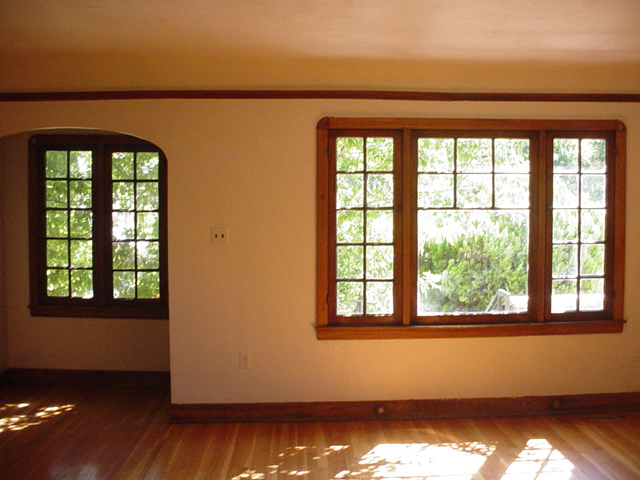 All New High End Nichiha fiber cement shake siding purchased for the home. Front of Home install to hopefully to begin this Fall or Spring of 2018
.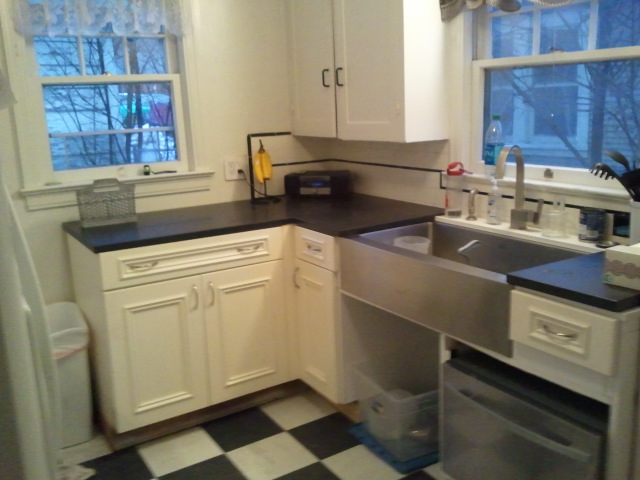 There is a Touchscreen self-monitored Alarm system that can be installed in this home with a longer than one year lease & the owner covers the alarm.com service fee. You can arm & disarm via the touchscreen controls in the home or via your smartphone, tablet or a pc. All alerts & alarms will go to the phone(s) &/or email(s) of your choice. Amazing system -- you can even get alerts so you know the kids returned home from school on time or if you are out of town -- you can do a peek in and make sure the kids or even pets are behaving. Plan is limited to 30 peeks in per month. You can learn more here: https://alarm.com/US/RA2-Security-Integration - The home has not been broken in to or had any problems along that line -- and the owners want to keep it that way.
Cost is $25 per month and as long as you have high speed internet access in the home - you can control the lights & alarm with your smartphone or tablet.
Plenty of charm!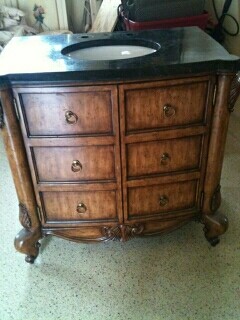 This fabulous Sink Chest is topped with Granite and High End $500 Faucet and installed in the bathroom in this home.
Wow!
Bathtub area is all that is left to do in this high end bathroom remodel at for $95 more per month on a longer than one year lease - will include subway ceramic tile walls & stainless steel tile with black and white marble accents, + rainfall shower head, body jets sprays, - about a $8,000 upgrade.
.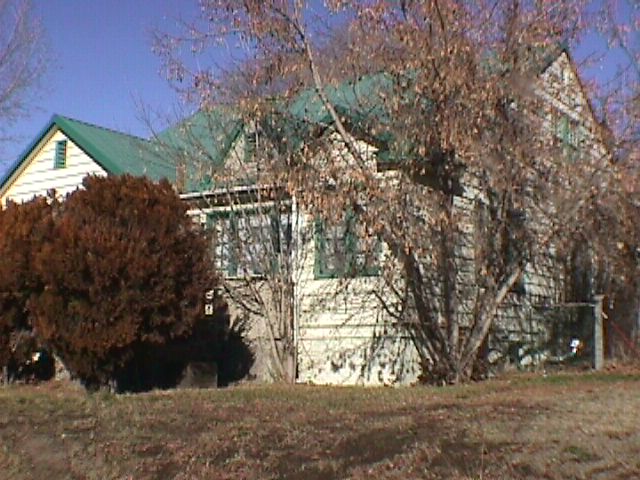 Kitchen and Bath both feature period black and white tile. Extra large bath has lots of storage space. Kitchen features extra large pantry, fire extinguisher, PUR water filter, side by side refrigerator and self-cleaning oven.
There is even a nice paver stone patio off the kitchen with room for outdoor dining table and BBQ.
The bedrooms are upstairs & the Master bedroom has two large closets. It has Gas Forced Air Heat with programmable thermostat, large basement with shop space and storage. Plenty of interior storage and a fenced back yard which is great for pets.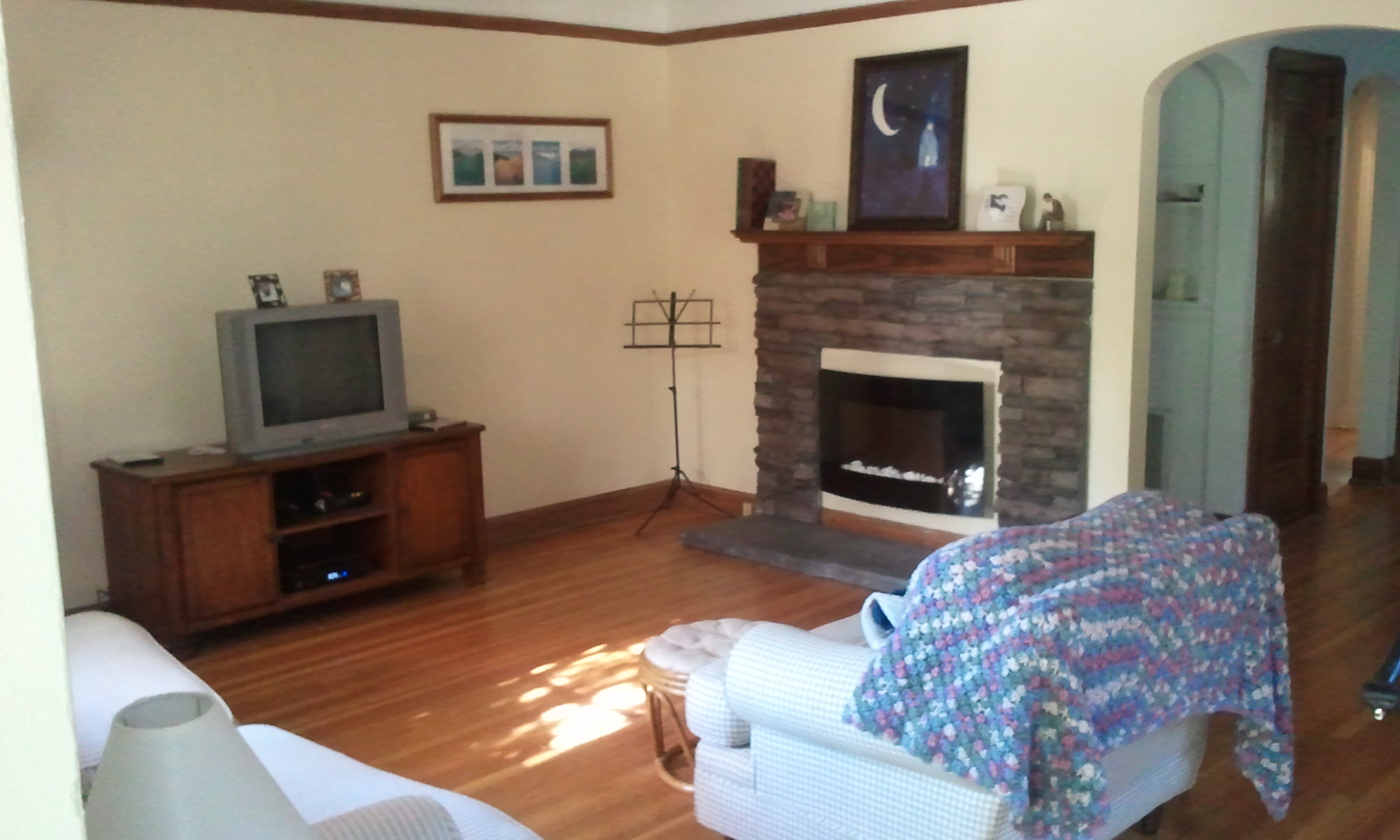 Four season electric fireplace with gorgeous wood mantel & stone surround plus remote control option available. Gas Forced Air Heat with programmable thermostat. Plus car safe kit - turn your lights on from your car!
Back concrete paver patio great for outdoor dining - surrounded by Lilacs
Plus sign up for a longer term lease and we'll install the car safe entry system at no extra charge.
647 Crater Lake Parkway (previously known as N. Alameda)
Available: As soon as the interior can be cleaned

Dishwasher is now a free standing white model. Last tenant killed two $1200 stainless steel drawer dishwasher.
More Yard Care, Snow Removal & Maid service can be arranged for an extra monthly fee. High Speed Internet access is available!
Options for You
Additional Options & Upgrades Just for you!

We offer more Upgrade options to our Travelers -
http://t-crealty.com/Upgrades.htm




Add $75 more per month

if you want a 55" Smart TV.
**Includes $100 per month for housewares (everything you need - Super Nice Ikea bedding, Spa towels, bakeware, cookware, silverware, glasses, wine glasses, coffee cups, coffee maker, toaster, dishes, rugs, curtains, and more) PLUS 32"-50" Smart TV Options, dishwasher, microwave, lawn care & all utilities. Most items are from Macys, Ikea & Costco so super nice quality. (And sorry - none of those stores are nearby. We ship &/or haul everything in for our travelers).**Discounted monthly cost on housewares will include fewer items. You can either sign up for the Utilities or we can keep them in our name & bill them out monthly.
Add $20 more per month if you want a vacuum cleaner, blender, iron & ironing board - This must be purchased for your stay. Blender, iron & ironing board - These have already been purchased.
Add $75 more per month (summer months only) if you want AC installed. Includes cost of unit plus installation. We may have to order this in as we only have a few AC units on hand. These are the super nice portable ones on wheels that you can move from room to room ($599 retail).